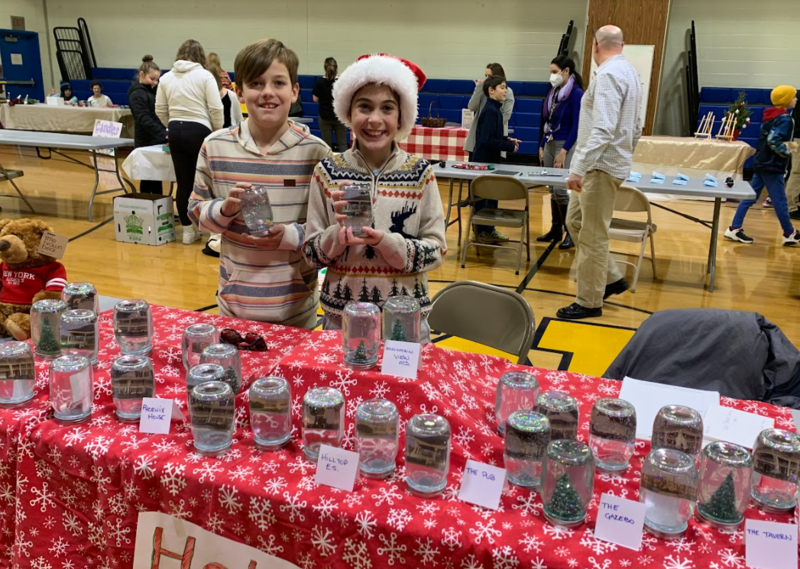 TREP$ is a national project-based program with the mission of "empowering students through entrepreneurship." This fall, a group of Mendham Borough "TREP$" (short for entrepreneurs) in 4th through 8th grade learned the basics of business, including product development, marketing, and sales, over the course of a multi-week enrichment club sponsored by the Home School Association. Advised by Ms. Decker, Mrs. McGoldrick, Mrs. Ascione, and Ms. Keith, their efforts culminated in a TREP$ Marketplace on the evening of December 20.
Mendham Borough TREP$ students showcased 32 collective businesses between Hilltop Elementary and Mountain View Middle School. The students created original table displays for their various products such as candles, board games, jewelry, holiday decorations, sensory items, hats, and services. Several young entrepreneurs also chose to donate a portion of their proceeds to causes they considered important, such as local animal shelters, homeless shelters, and food banks.
Will Pierson, an 8th grader stated, "It was a good opportunity to figure out how a business runs."
Bryson Cantafio, a 5th grader, reflected, "I liked selling products and experiencing what to do when talking to customers."
Sixth grader Priya Chopra added, "It was great learning how to manage a business and how to advertise for it."
From the moment the clock struck 5:00 p.m., students and parents walked through the door to show their support. The room was filled with excited shoppers and many of the businesses sold all of their products well before the close of the marketplace.
To learn more about TREP$, visit https://www.trepsed.com/.